As I said in the first post, much of the second half of Human X takes place around Orange County, CA. The safe house of the enigmatic character "Woodstein" is located in a not-completely-real place called Capistrano Canyon. Capo Canyon, as its denizens would probably call it, if they existed, is a more remote version of the very real canyon communities upon which it is modeled.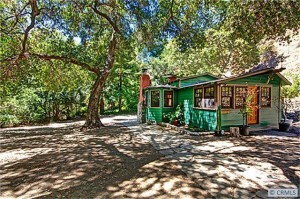 One of the nice oddities about the part of Orange County where I live is how you can go around a couple of bends and leave suburbia behind for almost completely rural community. The main spine of these areas, Santiago Canyon Road, connects the southern cities with the eastern parts of the central county. From this relatively civilized stretch of black top, you can steer off into one of a few small canyons, hosting the sort of communities where you still drive down the post office to get your mail. Your cell phone works sometimes, if at all. Canyon people, as they call themselves, are a breed apart from the suburbanites just a few miles away.
To create Capo Canyon, I took what was real and pushed even further back into the hills.
One of these canyons, the still-wild Black Star Canyon, even has an Indian massacre by fur trappers in its distant past.